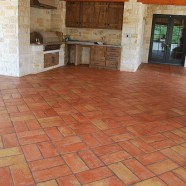 Sep

21
Tags
Related Posts
Share This
How To Design Your Home After Spanish Revival Style?
The Spanish Colonial Revival style is named after an architectural stylistic movement in the United States. It was started from Florida and California in the early 20th century and was influenced by the Panama-California Exposition. The stylistic movement was an expression of regional environment, history, and nostalgia. This particular style reached the culmination of its popularity in between 1915 and 1931. It is extensively used in small commercial buildings and single-level detached houses.
If you are a fan of this particular style, you can follow these following tips to bring a touch of Spanish Revival style in your home.
Use Wrought Iron: One prominent feature of this style is the use of wrought iron. Try to use wrought iron throughout your home. For example, you can use wrought iron made chandelier, stair railing, candlestick attached to the wall, etc. Just be sure not to pack your house with wrought iron made stuffs.
Use Stucco on Walls: Use fine plaster or stucco to coat the surfaces of the walls. Paint your walls with layers of warm tones and see how it changes the tone of your home. Sometimes kitchen hood and fireplaces can also be painted with stucco.
Decorate Your Home with Cut Steel Work: Try to add steel-cut accessories to décor the interior of your home. Cut steel stuffs and furniture add a certain Moorish touch to your home. For example, you can hang a couple of metal pendants from the ceiling of any room of the house.
Use Dark-colored Wood: Use of wood in home interior is very common and you can give your home a Spanish touch by choosing that wood from deep dark tones. You can use that dark-toned wood in the entry door and casing; entry table; plank floors, and in other places.
Select Terracotta Tile: The use of this particular type of tile is common in Spanish Revival style. You can décor the entry and kitchen floors with earthy red tiles.
The Spanish Revival Style is able to give your home a certain elegant look that is not possible by adopting any modern interior design.