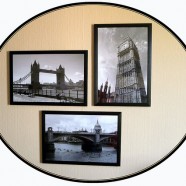 Jun

11
Tags
Related Posts
Share This
Right Ways to Hang Art Pieces Adroitly
Many of us like to collect art pieces, snapping pictures, or printing posters. However, the hard truth is we keep these items in boxes for years most of the times. It is because skillful hanging of art pieces is not as easy as to collect them. You can consider the following suggestions for hanging your art pieces:
Simplicity is the best option. If you are befuddled with the color combination of mats and frames, go for the simplest one – black and white. White mats and black frames is the most versatile color combination that can be used at anywhere. However, you can also choose colored frames if you want to enliven the surroundings.
Another good trick is to hang the pieces at eye level. You may notice that most of the art galleries hang pictures at average eye level. It will be irritating and uncomfortable to the eyes if you hang pictures too high on the walls. So, do some math before hanging art pieces in order to spot the right height. Do not forget to adjust for furniture underneath. If not calculated precisely, you might end up creating a bizarre-looking large gap between the art and the furniture underside. And, for kid's room, hang the items a little bit lower than usual.
A grid style art hanging may need some patience on your part, but it is a very good way to make a big statement. Through this style, you can also keep focus on a particular image if you want to. Place the picture that you want to highlight in the center and adjust other pieces around it by keeping two to three inches distance between the frames.
If you have a spectacular frame, highlight it by placing alone on a wall or in any room. Congesting the space by hanging a lot near it will mar the appeal of the frame. You can choose grid or row style for simple and slick frames.